Sabu is the chieftain of the sand elf Vulture Clan.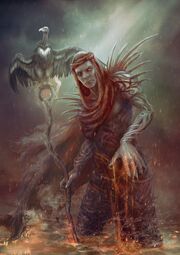 Sabu's elves control the area around the hilltop ruin of Vulture's Rock. The sorcerer Durza isn't directly affiliated with the clan, but he knows Sabu well.
Description
Edit
Sabu is young, careful and is reputed to have supernatural abilities. He worships the Lord of the Wastes.
Ad blocker interference detected!
Wikia is a free-to-use site that makes money from advertising. We have a modified experience for viewers using ad blockers

Wikia is not accessible if you've made further modifications. Remove the custom ad blocker rule(s) and the page will load as expected.