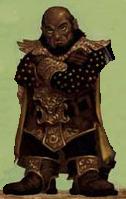 Lorian Lassad is dwarven merchant.
Lorian was born in the principality of Ajalis to a minor noble family. He worked for the Merchant's League of Lyrelda for many years, selling the finest Corhyrian fabrics to Thrane and Tashar. However during a time of financial difficulty he agreed to work as a spy for a mysterious group. Though he suspected that it was a guild of Corhyrian thieves, it was in fact the Lords of Dust.
Description
Edit
Lorian has dark skin and a black beard. He dresses in elaborate clothing and enjoys sharing stories with travellers he encounters. Since his decision to flee the Lords of Dust, Lorian has prayed daily to a statuette of the Dwarven goddess
Tanta
.
In the Campaign
Edit
Lorian hired Vantis and Lannus to discover what had happened to Erian, as the kenku had been on his way to Lorian to deliver a key and had never arrived. He later discovered the identity of the group he served, and became terrified that the Lords of Dust were trying to kill him.