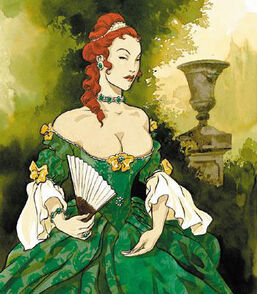 Lady Elena Dyrian is Thranish noblewoman.
Dissatisfied with her life, Elena demanded that her husband Polonius give her a mansion in the Upper Quarter of Daln to live in. He achieved this by striking a deal with the hobgoblin Zarek and opening the gates of Daln to the hobgoblins. He was later executed for this treason when Kahaeshan was defeated.
Description
Edit
Elena is proud old widow who has become increasingly bitter and malicious since her husband Polonius was executed. It is said that she is consumed by rage, shame and humiliation.
In the Campaign
Edit
Vantis and Lannus retrieved Talmorian's golem control rod from Elena, as it had been accidentally sold to her. This incensed her, and she ordered her guards to chase them from her home.